Adrachtas Vasilis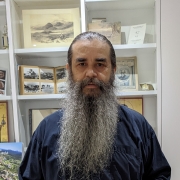 Western Sydney University
V.Adrahtas@westernsydney.edu.au
AHEPA Down Under: A Case Study in the Performance of Diasporic Hellenism
Abstract
The Greek Diaspora in Australia consists of a number of diverse community structures, both secular and religious, which have contributed to the performance of Hellenism in the Antipodes in their own distinctive ways. Some of these community structures have been rather conventional and typical of what one would expect from ethnic collectivities, but others have exemplified quite unique and original features, comparatively speaking. Perhaps the most original, complex and at the same time unique Greek Australian community structure has been the Australian Hellenic Educational Progressive Association (AHEPA), and this basically for the following three reasons: its hierophanic nature, its Pan-Hellenic ideology and its Australia-wide organisation.
The hierophanics of AHEPA Down Under – its rituals, ceremonial paraphernalia and quasi-religious emotionality – cut across the secular – religious divide and reconstitute it by realising an experience of being Hellenic which transforms the secular into the religious by paradoxically emphasising the secularity of the religious. AHEPA has also been a prominent agent of Pan-Hellenic ideology along with the major Greek Orthodox Communities and the Greek Orthodox Archdiocese of Australia. Moreover, it has been emblematic of such an ideology, a fact that has been played out through a politics of alliance, distinctiveness or contestation with other agents within the Greek Australian community, on the one hand, and through a politics of compatibility, compliance or uniformity with mainstream norms, on the other. Last but not least, the Hellenic identity espoused by AHEPA has been informed and consolidated by a sense of belonging to the only secular organisation in the Greek Australian ethnoscape with an Australia-wide perspective both in practice and in theory.
Lectures in Islamic Studies, Western Sydney University. Vassilis Adrahtas holds a PhD in Sociology and a PhD in Studies in Religion. He has conducted postdoctoral research in Political Science. He specialises in Early Christianity, Patristics, Byzantine Philosophy, Ancient Greek Religion and Myth, Islamic Studies, and Indigenous Australian Religions. He has taught at universities both in Australia and Greece. For the last ten years he has been actively involved in documenting the life stories of Greek Australians, as well as the history of their institutions. He is the author of six monographs and numerous academic articles. Currently he is researching the history of the Greek Orthodox Archdiocese of Australia (1924-2024).