Paroulakis Peter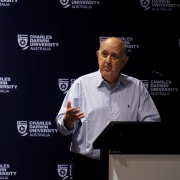 The Stolen Generation- The Indigenous and Hellenic Experience
Abstract
Darwin and the NT are home to a diverse multicultural population, of which the indigenous First Australians and, more recently arrived migrants of Greek origin, today make up a substantial contribution to civic and economic progress. Both groups have a long history of cultural richness and spirituality going back to antiquity- and both have suffered invasions and brutal exploitation of their countries and people by foreign powers, including the stealing of large numbers of children from their parents and families. In this paper I will endeavour to show how, despite these setbacks, both peoples have survived and prospered- and live side-by-side in harmony with each other, with a shared optimism for the future.
Biography
Mr Peter H. Paroulakis LL.B, was born in Perth, educated in Melbourne and he is graduate in Law from the University of Melbourne. He served as Honorary Consul of Greece in the Northern Territory 1983-1991.
He has given committed support for many years to Hellenic Australian activities. He was elected first National Chairman of the Greek Orthodox Youth of Australia. He has served as a legal adviser to the Greek Orthodox Archdiocese in Victoria, a member of the Victorian Governments' Ethnic Affairs Advisory Council and as President of the Hellenic Alliance in Victoria. He has been an executive member of the Australia Day Council, a member of the Australian Institute of Foreign Affairs and the Australian – Britain society.
Intensely proud of his heritage. He is the author of the book Author The Greek War of Independence (two editions) with its wealth of researched detail, to share with others, of Hellenic or other origins, the moving story of the struggle for liberty and independence that led to the birth of the modern Greek nation.