Raymond Desmond Kootji & Vemuri Sivaram
Raymond Desmond Kootji
Charles Darin University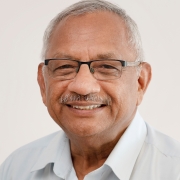 Dr Vemuri Sivaram
Director, Human Economics International
Influence of Greek diaspora on Girdiminba (Larrakia entrepreneur)
Abstract
Diasporas migrate from their homelands 'leaving behind dismal economic conditions, they hope for better luck abroad. They are both pushed and pulled. Collectivises also use colonies to improve their wealth; but they serve political and strategic ends, as well' (Sommer 2011, p. 187).
This presentation is a narration of the interaction between the late self-made multi- millionaire, Mick Paspalis, and Larrakia nerri (elder), Bundilla. The presentation highlights the influence of interactions on the mindsets of diaspora and the Girdiminba.
Biography
Kootji – Desmond J Raymond is a Larrakia man with a broad and deep range of experiences and expertise covering the arts, the sports, the media(television/film), the business, economic development, community engagement and community development. Over ten years of research, Kootji has developed governance, business and entrepreneurial perspectives, which are, lived experiences within the Indigenous worldview. He is currently a Doctoral candidate at Charles Darwin University. His current research focuses on the plurality of entrepreneurship and business within the economic landscape of Larrakia country, Darwin.
Dr Vemuri Sivaram has spent over 30 years working on several projects in Australia, USA, Jordan, India, and Papua New Guinea creating businesses in remote and regional areas. During his work at Charles Darwin University, he has been a chief investigator of 3 Australian Research Council and 2 Desert Knowledge Cooperative Research Centre as well as several NT Government and private sector projects involving applied economics. Ram has been a project leader of Interdisciplinary.net projects on a range of issues including Diaspora Business; Silence; Citizenship; Environmental Justice and Citizenship; Diaspora; Multiculturalism and Belonging; Pluralism, Inclusion and Citizenship; Strangers, Aliens and Foreigners.