Dr Aravossitas Themistoklis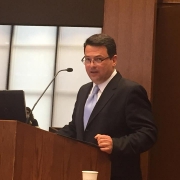 University of Toronto, Munk School of Global Affairs and Public Policy, Centre for European, Russian and Eurasian Studies
York University, Department of Languages, Literatures and Linguistics
Η Ελληνόγλωσση Εκπαίδευση στο Τορόντο: Προκλήσεις και Προτεραιότητες μετά την Πανδημία
Περίληψη
Η παρούσα εισήγηση μελετά τις επιπτώσεις της πανδημίας COVID-19  στην ελληνόγλωσση εκπαίδευση της διασποράς, καθώς και στις νέες συνθήκες που διαμορφώνονται, μελετώντας την περίπτωση  της παροικίας στο Τορόντο του Καναδά.  Το πρώτο μέρος της μελέτης αναφέρεται στο πλαίσιο λειτουργίας των ελληνικών σχολείων και των προγραμμάτων ελληνικής γλώσσας στο Τορόντο. Καταγράφει τους εμπλεκόμενους φορείς και τις συνθήκες που επηρέασαν το εκπαιδευτικό έργο από τον Μάρτιο του 2020 ως τον Μάρτιο του 2022.  Στο δεύτερο μέρος, εξετάζεται ο νέος όρος «Ανθρωπόπαυση», που αφορά στην περίοδο παύσης συγκεκριμένων ανθρώπινων δραστηριοτήτων κατά την περίοδο της πανδημίας (Rutz, κ.α., 2020), και επιχειρείται η σύνδεση του όρου με την εκπαίδευση και ειδικά με τη διδασκαλία και μάθηση της ελληνικής ως γλώσσας πολιτισμικής κληρονομιάς (Heritage Language) (Brinton, κ.α., 2008). Στη συνέχεια, παρουσιάζονται τα αποτελέσματα έρευνας που πραγματοποιήθηκε στα τμήματα Ελληνικής Γλώσσας των Πανεπιστημίων Τορόντο και Γιορκ, με θέμα «Πώς επηρέασε η πανδημία τις σπουδές σας/ το εκπαιδευτικό σας έργο;». Στην έρευνα που διενεργήθηκε με τη μέθοδο ηλεκτρονικών ερωτηματολογίων μεταξύ 1ης και 10ης Απριλίου 2022, συμμετείχαν προπτυχιακοί φοιτητές και φοιτήτριες καθώς και εκπαιδευτικοί που διδάσκουν σε ελληνικά σχολεία και προγράμματα ελληνικής γλώσσας στο Τορόντο του Καναδά.
Στο τελευταίο μέρος της μελέτης, γίνεται ανάλυση και συζήτηση των δεδομένων της έρευνας. Με βάση την τοποθέτηση των συμμετεχόντων, καταγράφονται συμπεράσματα και προτάσεις σε σχέση με τις νέες δυνατότητες αλλά και προκλήσεις που αντιμετωπίζει η ελληνόγλωσση εκπαίδευση στον Καναδά  και ευρύτερα στην ελληνική διασπορά.
Βιβλιογραφία
Brinton, D., Kagan, O., &  Bauckus, S. (Eds.), (2008). Heritage language education: A new field emerging. New York: Routledge.
Rutz, C., Loretto, MC., Bates, A.E. et al. (2020). COVID-19 lockdown allows researchers to quantify the effects of human activity on wildlife. Nat Ecol Evol 4, 1156–1159.
Σύντομο Βιογραφικό
Απόφοιτος του Παιδαγωγικού Τμήματος Δημοτικής Εκπαίδευσης του Εθνικού Καποδιστριακού Πανεπιστημίου Αθηνών. Έκανε μεταπτυχιακό στη διδασκαλία μειονοτικών γλωσσών, την ανάπτυξη αναλυτικών προγραμμάτων και την εκπαίδευση δασκάλων, στο Ινστιτούτο Παιδαγωγικών Σπουδών του Οντάριο (OISE) του Πανεπιστημίου Τορόντο όπου εκπόνησε διδακτορική διατριβή με θέμα μελέτης την ελληνόγλωσση εκπαίδευση στον Καναδά. Διδάσκει Νέα Ελληνικά και Νεοελληνικό Πολιτισμό στα πανεπιστήμια University of Toronto και York University. Το ερευνητικό του έργο εστιάζει στη διδασκαλία γλωσσών κληρονομιάς και την ελληνόγλωσση εκπαίδευση στη διασπορά.  Στο συγγραφικό του έργο περιλαμβάνονται  πολλά επιστημονικά άρθρα καθώς και  η συν-επιμέλεια των τόμων:  Language Diversity in Greece: Local Challenges with International Implications (Springer, 2020), Language Diversity and Education Matters (Gutenberg, 2019),  Interdisciplinary Research Approaches to Multilingual Education (Routledge, 2018), Handbook of Research and Practice in Heritage Language Education (Springer 2017), Rethinking Heritage Language Education (Cambridge University Press, 2014).