Eileen Cummings
University Fellow, Northern Institute, Charles Darwin University
Topic: Personal and career experiences of Indigenous personhood with respect to government 'Stolen Generation' policy and truth-telling the Stolen Generation history in Australia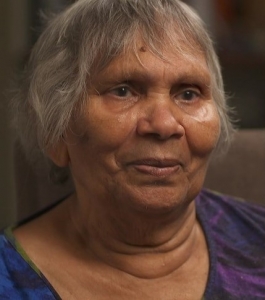 Eileen has long standing connections across NT Aboriginal communities, the Federal and NT Government after her time as a senior bureaucrat in the Aboriginal social policy area. Eileen ensures the research is . developed according to the highest standards of research in Western and . Aboriginal contexts, Eileen presents and publishes on the research outcomes with CDU researchers and supports the engagement of Aboriginal people as researchers in evaluation projects.
Eileen Cummings has acted as a member of the Evaluation of Social Policy Research team for several years. Since retiring Eileen has brought her considerable knowledge and leadership to the development of the methodologies within the team and leads the Aboriginal community engagement aspects of this work.
Eileen provides leadership and authority for the evaluation team to develop their work with Aboriginal communities.
Visit her profile