Professor Dimitrios Kyrkilis
Vice Rector for Administrative, Academic and Student Affairs of the University of Macedonia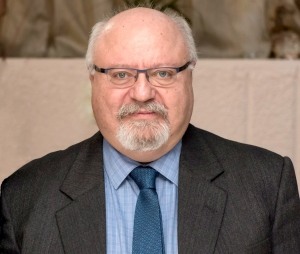 Χαιρετισμός του Αντιπρύτανη, Καθηγητή Δημητρίου Κυρκιλή στο 3ο Διεθνές Συνέδριο για την Ελληνική Διασπορά (26-28 Μαΐου 2022)
Με ιδιαίτερη χαρά και ικανοποίηση απευθύνω θερμό μήνυμα καλωσορίσματος προς όλους τους συμμετέχοντες στο 3ο Διεθνές Συνέδριο για την Ελληνική Διασπορά, που αποτελεί καρπό της τριμερούς συνεργασίας μεταξύ του Charles Darwin University, του Πανεπιστημίου Αιγαίου και του Πανεπιστημίου Μακεδονίας.
Ως Αντιπρύτανης του Πανεπιστημίου Μακεδονίας, θέλω να συγχαρώ θερμά όλους όσοι σε Ελλάδα και Αυστραλία συμβάλλουν ενεργά στη συνέχιση αυτής της σημαντικής συνεργασίας, η οποία έχει ήδη αποδώσει ουσιώδη αποτελέσματα τα προηγούμενα χρόνια.
Το Πανεπιστήμιο Μακεδονίας αποδίδει ιδιαίτερη σημασία στη συνεργασία αυτή, όχι μόνον επειδή συμβαδίζει με τους στόχους του Ιδρύματος που αποβλέπουν μεταξύ άλλων στην εξωστρέφεια και τη διεθνοποίηση των σπουδών του, αλλά επιπλέον επειδή αντιλαμβάνεται την εξαιρετική βαρύτητα που περικλείει η έννοια της Ελληνικής Διασποράς.
Η νέα αυτή πρωτοβουλία, της διοργάνωσης του τρίτου Συνεδρίου για την Ελληνική Διασπορά, συνεχίζει την παράδοση επιτυχίας του παρελθόντος, προσθέτοντας καινούργια πεδία στην ερευνητική προσέγγιση των χαρακτηριστικών και της σημασίας της Ελληνικής Διασποράς, αλλά και στην ανάδειξη της ελληνικής γλώσσας και του πολιτισμού όχι μόνον στην Βόρεια Επικράτεια, αλλά σε ολόκληρη την Αυστραλία.
Κρίνοντας από το σημαντικό εύρος της θεματολογίας του Συνεδρίου, αλλά και από το κύρος των επιστημόνων που θα παρουσιάσουν το ερευνητικό τους έργο, είμαι πεπεισμένος ότι τα συμπεράσματα που θα προκύψουν θα αποτελέσουν οδηγό και πολύτιμο εργαλείο για την περαιτέρω μελέτη και κατανόηση της μεταναστευτικής εμπειρίας των Ελλήνων της Διασποράς, αλλά και των συνθηκών και του περιβάλλοντος στα οποία κλήθηκαν να αντεπεξέλθουν.
Με αυτές τις σκέψεις και προσδοκίες, εύχομαι κάθε επιτυχία στις εργασίες του Συνεδρίου.
Καθηγητής Δημήτριος Κυρκιλής,
Αντιπρύτανης Διοικητικών Υποθέσεων, Ακαδημαϊκών Υποθέσεων και Φοιτητικής Μέριμνας του Πανεπιστημίου Μακεδονίας
It is a pleasure and privilege to address the 3rdInternational Conference on the Hellenic Diaspora, which is the outcome of the trilateral cooperation between Charles Darwin University, the University of the Aegean and the University of Macedonia.
As Vice Rector of the University of Macedonia, I warmly congratulate all participants, both from Greece and Australia, who have actively contributed to the continuation of this important partnership which delivered significant results in the past years.
We at the University of Macedonia consider this cooperation as extremely important, seeing that it goes hand in hand with the aspects of extroversion impact to the community and internationalization, which our University considers as part of its strategic targets. In addition, we consider the exploration of the Hellenic Diaspora as a very significant academic and research question.
Continuing a successful scientific tradition, this years' initiative, the 3rd International Conference, is adding new fields of research related to the aspects and the importance of the Hellenic Diaspora, as well as highlighting the legacy of the Greek language and culture, not only in the Northern Territory, but throughout the continent of Australia.
Judging from the noteworthy range of academic papers that will be presented, as well as the academic prestige of the presenters, I am convinced that this Conference will serve as a guide and a valuable academic tool for further study and understanding of the immigration experience of the Hellenic Diaspora, along with the new environment that they have to adjust to.
With these thoughts and expectations, I welcome you and wish you all a successful and productive conference experience.
Professor Dimitrios Kyrkilis
Vice Rector for Administrative, Academic and Student Affairs of the University of Macedonia