Dr Yiannakis John OAM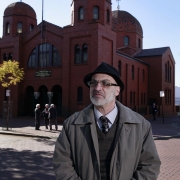 Australian Catholic University
Deaths and Burials of Early Greek Arrivals to Western Australia (1891-1914)
Abstract
1891 saw the much-celebrated arrival to Western Australia of Arthur Aguste (Athanasios Avgoustis) from Castellorizo.  Until the 1990s, Auguste was believed to be the first Greek to settle in WA.  In that same year, however, the first recorded death of a Greek in WA occurred.  In the years between the death of John Poulos, a 45-year miner, and the arrival of the first duly appointed Greek Orthodox priest to WA, Father Germanos Heliou (Illiou), in 1914, another 27 Greek deaths would follow.  Most of them would not receive an Orthodox burial.
These men and women are examples of migrants who ventured far from their Greek homeland to seek their fortune and carve out a better life but found themselves in difficult circumstances that sometimes ended tragically.  The majority of these people are unknown to the Greek community today.  Most had no family here.  Their experiences help to inform us about the travails of early Greek migrants in WA and the conditions they encountered.   These untold stories demonstrate that the 'rags to riches' tale was not case for all who ventured to Australia.  Nevertheless, these and other yet unknown early Greek arrivals to Western Australia should not be forgotten.
Biography
Dr John N. Yiannakis OAM worked as a Research Fellow at Curtin University for many years.  Currently, he is employed at Australian Catholic University and is an Adjunct Research Fellow at Charles Darwin University. Dr Yiannakis has published extensively in the field of Greek migration, settlement and adaptation to Western Australia.  His work includes Greek Pioneers in Western Australia; Odysseus in the Golden West and Vlase Zanalis: Greek Australian Artist.  More recently a co-authored monograph Black Night, White Day: Greek women in Australia, a longitudinal study was published, and he edited and contributed to both volumes of Perspectives on the Hellenic Diaspora.