Sartinas Eleni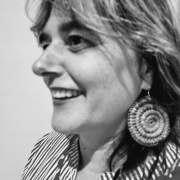 Cultural Manager, Artist
"The family identity album – Reimagining the past" – A creative interrogation of the family album exploring themes of identity inspired by the migration experience, told from an intergenerational perspective.
Abstract
For a child of immigrant parents, the past was a mystery, of characterised imaginings and faraway places. Bloodlines unknown, photos provided a reference to a continual lineage and cultural identity that was different to the one experienced in the present.  Growing up in a new country, inherited identities were appropriated into new experiences. They were a mutable interplay of different emotional states and understandings, oscillating between feelings of displacement, belonging and of being in between. Unique and fragmented, could these contradictory states ever align/meet?
Framing the family photo album as a subjective archive and using the humble snapshot is an attempt to explore issues of identity and belonging impacted by my family's migration experience. Creatively interrogating the family album from an intergenerational perspective, invites the potential for reimagination and reframing the past. Informed by the collective experience of the post-World War Two Greek Australian diaspora, themes of identity and displacement addressed in this project also align with the contemporary events of human unsettlement taking place here and overseas.
Biography
Her professional experience is multifaceted and varied, having worked in cultural, business and community development capacities.  Amongst her varied roles, she has supported First Nations and Migrant communities to celebrate identity, support business capabilities and their empowerment to tell and share their stories on different platforms. As an emerging artist, she has a particular interest in examining the concept of memory, using photography and digital media to explore associated themes of identity and sense of place and the relationships in between.